From discount surplus food stores to hosting the Green Growth Forum in their capital city, Denmark has established itself as a world leader in the global fight against food waste. The country has more initiatives to reduce food waste than any other European nation, which have all contributed to a 25% reduction  of food waste over the past few years. Their success is largely due to the grassroots initiative Stop Spild Af Mad or, Stop Wasting Food, a NGO founded by Danish graphic designer Selina Juul. The group aims to educate consumers on the impacts of food waste as well as bring media attention to the issue, through campaigning and being active in policy making. One particularly successful campaign tackled the issue of "UFOs" or "Unidentified Frozen Objects".
Speaking to The Guardian, Juul said "we ran a campaign about having a clearout once a month to eat your UFOs…We also promoted 'Sunday leftover tapas', and the idea that if you're going away, you give your neighbour everything in your fridge – and they do the same for you."
Juul also campaigned, and was largely successful, in breaking the stigma associated with asking for doggy bags at restaurants. The practice was previously unpopular among Danes who were embarrassed to be taking home the leftovers, as their name implies the food is only good enough for a dog. Over the years, Stop Spild Af Mad has worked to rebrand them as "goody bags"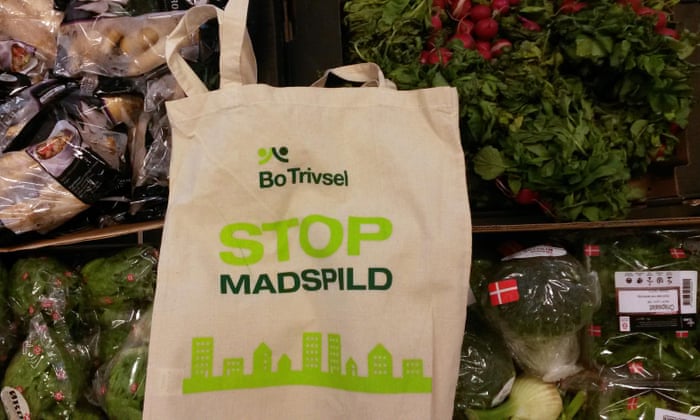 Image: Bo Welfare via The Guardian
Stop Spild Af Mad has also partnered with Bo Welfare, a social housing organization in the Danish city of Horsens. They have worked together to establish a pop-up shop where customers pay 20 Kroners (about $3.90 CAD) for a reusable bag, then fill it with any amount of surplus produce from the store shelves.
Another prominent organization in the food waste revolution is WeFood, Denmark's first surplus grocery store that sells food originally destined for the trash, for 30-50% cheaper. The store has been a huge success partly due to its intentional resistance to being branded a charity. Anyone, from all walks of life can buy the discounted fruits and vegetables. This removes the stigma associated with going to a food bank and allows people from all socioeconomic backgrounds to benefit from inexpensive, healthy produce- all while reducing food waste.
A UK add for the Too Good to Go app
A startup company that has seen amazing success in fighting food waste is Too Good To Go, an app that connects users with leftover foods from all-you-can-eat buffets, which are popular among Danes. The app has now spread to 9 countries, prevented about 200 tonnes of carbon emissions by redirecting food waste and has provided thousands of meals to those in need.
Denmark is making big moves in the fight against food waste. It appears that all of the food waste organizations are taking a bottom-up approach to the issue and are working towards shifting society's relationship with food from away from indifference and towards one that is more positive and conscientious. As a majority of food waste occurs in the household, these grassroots movements are exactly what is needed to end food waste and create a sustainable food system!